Overview
Event type: Free Live Webinar
Title: How the World-Class Companies Stay Competitive in Autonomous & Assistive System Development?
Date: Tuesday, October 17th, 2023.
Time: 11:00 am, EEST (Helsinki/UTC +3)
(10:00 Berlin, 13:30 Delhi, 17:00 Tokyo)
Duration: 2 hours.
Summary
Welcome to the 10th annual Mevea Virtual Seminar 2023!
Today's heavy machinery includes ever increasing amount of operator assistance systems, work cycle automation and software. This in turn increases the product complexity and thus product development is facing challenges, such as:
Development takes more time than expected
Software and automation testing becomes more challenging and time consuming
Cost of physical prototypes, their testing and zero series are rising
Risk that final testing with the physical product is moving to customer site
Poor customer experience in case of product/software quality/warranty issues
In this virtual seminar you will learn
how Ammann (Switzerland), Prinoth (Italy) and Raute (Finland) – all world-class companies in their industry segments – are addressing the challenges related to assistive and autonomous system development.

As an anniversary bonus, you will also hear the secrets of how to stay competitive in the world's fastest business from our very special guest speaker Ossi Oikarinen. Mr. Oikarinen is a motorsport professional who has worked in many F1-Teams including Toyota F1, BMW-Sauber and Ferrari F1. He has experience on Data Analysis, Race Engineer and Chief test engineer positions. (This presentation will be for the live attendees only.)
Speakers and the Agenda
Opening at 11:00 am (EEST, Helsinki/UTC +3)
Case Ammann: Daniel Nellen, Head of Machine Software Development
Using simulation environments in the machine development lifecycle, and the challenges and benefits it can bring when it comes to operator assistance as well as semi-autonomous systems development.
Case Raute: Tapani Tilus, CTO
Using simulation in developing, testing and supplying production line technology in global operation.
Case Prinoth: Francesco Salis, Software Development Coordinator
Integration between Mevea and Matlab-Simulink to simulate the Snow Groomer operation. This is an enabler to experiment different strategies to solve complex control problems and evaluate a variety of powertrain layouts.
Mevea Solutions Overview
World's fastest business: Ossi Oikarinen, Motorsport Professional
Product development in ultra competitive business. How do the motorsport industry develop and test products in environment where success and failure are visible to millions of TV viewers every two weeks.
Closing at 1:00 pm
There will be a short Q/A after each presentation.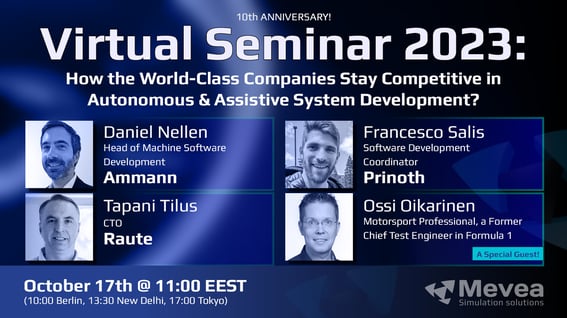 If you have any questions, you can email to us:
simo.ruuskanen@mevea.com